SaaS solutions are growing in popularity, according to Report Linker. The projected market growth is estimated at 16.3% CAGR until 2026 when the total cost of cloud solutions will reach $947.3 billion. Business digitalization is a trend, and, according to IDC, 75% of companies will implement digital transformation roadmaps in 2022.
To keep up with competitors and fight for market leadership, entrepreneurs must think about building a SaaS for their startups and businesses as soon as possible.
SDCLabs experts analyzed the SaaS market and identified the main problems of entrepreneurs introducing digital business products. In this article, we will list critical factors affecting the speed of deploying IT solutions, all development stages, and aspects influencing the success of an enterprise and its viability.
Preparing for development

SaaS software development requires a measured approach. Let's take a step-by-step look at what an entrepreneur needs to build an efficient solution even at the start.
1. Business Assessment
Determining the vision of the business and the services you provide to your customers is an essential part of preparing for SaaS development. The structure and functionality of your product depend on the interaction model and technologies to implement it.The type of your business determines which features are primary and secondary. For example, in the case of eCommerce, you need a friendly interface, clear business logic, shopping cart, search bar, catalogs, filters, chat, payment integrations, analytics, and CRM/ERP/WMS systems. It is best to implement them gradually, but if you have the budget and time, you can implement everything at once and receive an advanced cloud platform for your business.
2. Choice of Technologies
Stack Overflow
experts identified the best tech stack for the SaaS market:
Frontend: JQuery, ASP.NET, Angular, React, Express, and Vue.
Backend: JavaScript, Python, Java, TypeScript, and PHP.
Frameworks: Node.JS, .Net, and .Net Core. Python Django, Ruby on Rails
Databases: MySQL, PostgreSQL, Microsoft SQL Server, SQLite, and MongoDB.
Cloud Platforms: AWS, Microsoft Azure, and Google Cloud Platform.
Which one should you choose? Consider your budget and the desired functionality of the solution and check whether the selected tech stack allows you to implement it.Please note that the chosen technologies should allow your business to scale and be flexible, accessible, and easy for users.If you don't have a technical background but need to choose programming languages following your business tasks, it is better to involve
industry experts
.Cloud platforms for developing and hosting SaaS have similar functionality but differ in maintenance costs, security protocols, and popularity. In our opinion, Azure is the best option because it has a flexible pricing policy, high performance, omnivorous technology, and
the best security level
. This cloud solution is one of the three world market leaders.
3. Cost calculation
The technical stack, the number of features, the complexity of the project — all this affects pricing. The duration of development, the number of team members, and their hourly rates also define the final costs. For example, if your SaaS product requires 10 performers with an average rate of $33 per hour and about three months of 8-hour work per day, the final price of the product built on the basic tech stack is $237,600. Big money, isn't it? For the complex project, the price will rise by 20%, and if you need any extra features, it will grow by another 25%.
4. Choosing a contractor
How to choose a contractor if you are not a technical expert? Hire freelancers? No, it's not worth it. You need a team of 10+ people, and it won't be good if assembled from single performers. Such developers are not responsible for the quality, and you cannot control them due to lack of experience.The best solution is to order
services
from a reliable company. Professionals implement turnkey projects and ensure the transparency of development with reporting. A dedicated team signs a contract and is fully responsible for the quality of your product, tests it for errors, and prepares it for release.
5. Building a roadmap
Prepare a phased roadmap for the project together with the contractor. You need to include the following:
analysis of the market and competitors;
discussing terms of reference with contractors;
rallies to demonstrate layouts;
stages of implementation of features;
testing deadlines;
time to correct defects;
pre-sales marketing.
It will help you release a digital product timely, do all preparatory work in advance, and not overspend your budget.
6. Product development
At this stage, pay attention to the following details:
The contractor must divide the work into sprints, taking into account the time for testing and fixing errors.
Each development period must have clear goals and achievable results of the work.
Save much time for refactoring because the rapid pace of development may cause technical debt, which will lead to errors in the product.
Implement up to 30% of the planned features to test the profitability and the MVP's demand.
Even if you are not a technical specialist, feel free to participate in the development process. Follow the progress to prevent the development of a product radically different from what you planned.
7. Product release
User experience is a critical metric of product quality. After your project is polished, offer it to a limited number of customers. Read their reviews and adhere to them. Fix bugs timely and release updates, gradually improving features of your SaaS.
Expert advice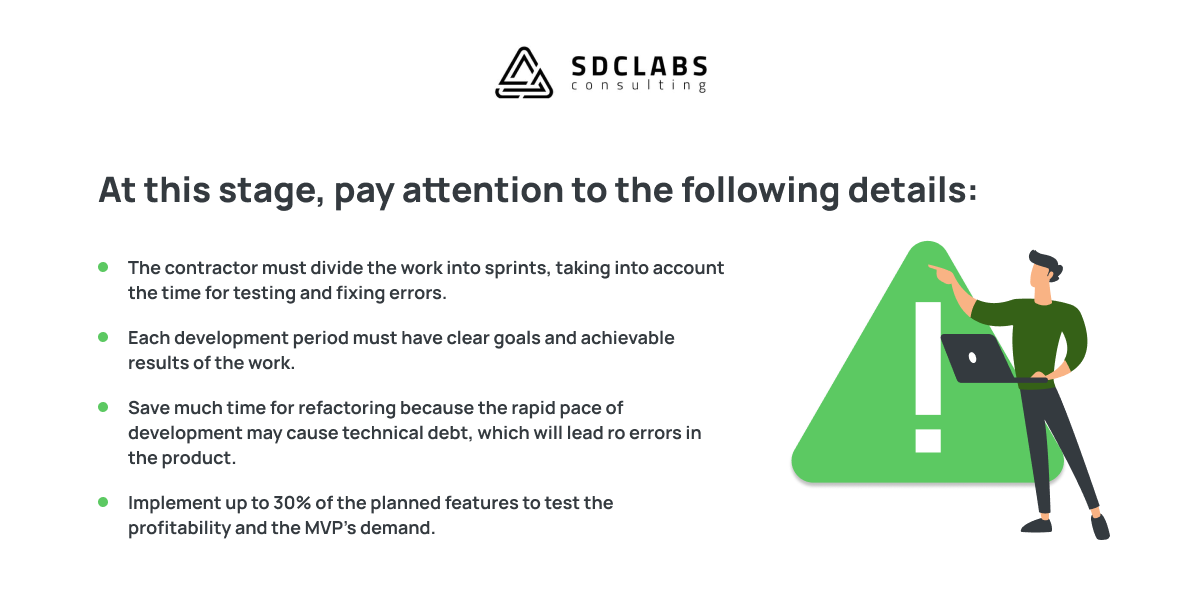 1. Use a proven and inexpensive technical stack
We recommend using the MEAN or MERN as a base. The fact is that frameworks like JQuery, Angular, React, and Express are leaders among developers worldwide. Even such giants as Facebook, Google, Amazon, and SpaceX use them in their digital products. A good indicator of their success, isn't it?
2. Don't skimp on performers
As we said above, the quality of your product and its viability in a highly competitive environment significantly depend on the performers. The services of freelancers are cheaper, but you risk meeting an irresponsible developer, and you won't even notice it if you don't have the proper knowledge.Dedicated IT teams are another matter. Most of them have both collective responsibility and a good reputation. Moreover, the services of teams are not much more expensive. On average, they are $25-$49 per hour. By signing a contract, you ensure the timely release of your project and its high quality.
3. Plan the development of the project before it starts
If the intended functionality does not meet your deadlines, divide it into several stages. For example, build an MVP with critical features and then gradually add new ones. You can also delay the release of the solution to the market and refine it, but it may affect the success of your product negatively.
Let's summarize
SaaS development is a responsible task, so you should prepare for it in advance. Don't try to cover all the functionality at once and introduce innovative features. It is enough to develop an MVP and build a marketing campaign to enter the market. Unfortunately, we cannot help you with the latter, but we can create a perfect IT solution.Delegate your project to industry experts! Working with SDCLabs, you won't worry about time and quality. We will provide a comprehensive service, consult, help build a roadmap, define business logic, develop a cloud IT solution for your company, and test it. You get a ready-made turnkey product without compromising your core business processes.
Contact our manager
to discuss and order the service.