Modern complex web apps have firmly established their position in the market. PR Newswire predicts the industry will grow at a CAGR of 32% between 2020-2027 and a total value of $10.1 billion. This is due to the strong demand from entrepreneurs to develop digital products for businesses ranging from commerce to multimedia services or cloud-based hosting of user files.
It is difficult to predict the profitability of investments in the IT segment because the success of an enterprise depends on many factors that cannot always be controlled. Analyzing the target market, studying consumer needs, and even creating marketing strategies or monetization plans are key to calculating ROI and profit. Another critical factor is the cost of developing an IT solution and a complex web solution as a whole.
How to correctly calculate the necessary investments and cost of web app development, save money, and correctly allocate the budget without losing investments? Today we will try to answer these questions in detail.
Price Policy: What Are the Main Triggers for Pricing
To properly assess the required amount of investment in a future IT product, you need to consider both the scope of the project and the cost of all components of the digital solution.
The final web app development price is influenced by such factors as:
The complexity of the task.
Used technologies.
Several features.
Integrations and services.
Debugging operations.
Artist's hourly rate.
Composition and number of team members.
Cooperation model.
Final deadlines.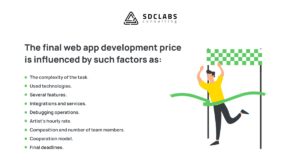 All this directly affects pricing. We suggest taking a closer look at the key factors, which add up to about 70% of the final price.
Project Complexity
Depending on the scale and complexity, the development price may differ by more than 10 times. For example, a simple website with a standard set of features such as a personal account, shopping cart, catalogs, and filters will cost the customer between $5,000 and $12,000. This is due to the small amount of work, time consumption, and solving such a task can do a small team of 2-3 experts.
A complex web app or even a platform similar to the scale of a marketplace will cost significantly more. Implementing all the features will require more time and effort, as well as more staff. As a result, the cost of such an IT solution can reach $50,000-$80,000 for an entire cycle of work on a project.
Technological Solutions
The choice of a tech stack directly depends on the tasks and budget of the project. The more ambitious it is, the more different frameworks and programming languages ​​are required for its implementation. As a result, the customer needs to hire various specialists or teams to work on the project. And the more specific the technology, the more specialists will have to be paid, which will seriously affect the project's final cost.
Number of Features
Small web solutions with basic functionality are easy to implement, so their cost is much lower than more advanced ones. The more various integrations and additional modules are required, which are usually developed from scratch based on frameworks, the higher the final development cost. For example, if you need smart filters with tags, a PIM system, payment services, and more, get ready to pay a pretty penny because such projects cost about $120,000.
Team Size and Composition
Developing a simple website requires 1-2 specialists and about a month of time. Therefore, the cost of such a project rarely exceeds $5,000. With complex apps, the situation is different: experts of different profiles and up to a year of time are required to implement all the functions. For example, a standard SaaS product with such functionality as: CRM, ERP, PIM, CMS needs an extended team of 7-12 people who will be responsible for back-end, front-end, UI, DB, integrations, and hosting.
The rate of an Eastern European specialist is $45/hour, or $250/hour if 5 performers are hired. It takes about 600 hours to develop a complex app. As a result, we get 250×600 = $150,000.
Contractor Relationship Model
When hiring developers, it is necessary to purchase equipment and prepare workplaces and office. When working with third-party contractors, costs are reduced, and the main item remains the net rate multiplied by the project's complexity. It is also essential to understand that even with an outsourcing collaboration model, you can save money by delegating tasks to teams located in Eastern Europe. With an average rate of $40-$45, the workmanship is almost as good as their American counterparts, although their work costs 3 times more.
Success Strategy: Comprehensive Development as a Service
In the classical Agile methodology, web app development is divided into 5 phases; each plays a different role: research, design, development, testing, and support. Some entrepreneurs split these tasks into several contractors, which leads to a failed startup in 42% of cases.
The right strategy, which will not only improve the quality of your project but also save your budget, is to work with one company throughout the entire app life cycle.
Advantages of cooperation with one contractor:
High involvement of performers in the project.
Affordable total cost.
Responsibility for product quality.
Lack of inconsistency between developers.
High team productivity.
Saving time for integration into the project.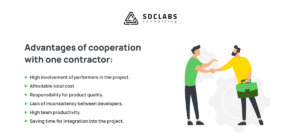 These advantages offset entirely the disadvantages, which are practically nonexistent apart from the cost. You get a reliable partner by working with the sole contractor who does all the planning, development, testing, and supports tasks. Such a company will remain with your IT solution until the end of its life cycle and, if necessary, completely redesign it to modern requirements. By investing in such cooperation, you gain invaluable experience and guarantee the payback of the digital product.
The Pricing of Different Types of Development
Development pricing depends on several factors that not only determine the cost of the final release but also allow you to build a scaling strategy. The fact is that any IT product has at least 3 stages:
Analytics, design, and risk assessment.
Direct development, testing, and release of MVP.
Bug fixes, scaling, and final release.
The first stage takes place long before the start of development and is evaluated according to its own model. For example, the average cost of market analysis can reach $25,000, and the time spent on this procedure ranges from 1 to 5 weeks. It is similar to design, which includes not only building a business logic model but also preliminary design and interface sketches. These processes take from 3 to 6 weeks, and they are estimated in the range of $100 to $50,000.
The second stage is the most resource-intensive and expensive. It includes processes directly related to development, namely:
Working with frameworks.
Preparation of the database and hosting.
Creation of back-end and front-end parts.
Writing code.
Integration of modules and functions into the body of the app.
IT product testing.
The lion's share of the web application development cost lies precisely in preparation for the MVP release, which is a fully working product ready for presentation to the public. The preliminary development cost can reach $50,000, which is quite acceptable, given the enormous amount of work and time required to implement the minimum functionality.
Testing is also one of the critical elements of development that should not be neglected. The ideal option is to deploy this process directly during the start of work on an IT product. This approach will provide the highest possible quality, although it will incur additional costs up to $ 50,000 for an entire cycle of QA services.
The third stage has a flexible pricing model and depends directly on the method of cooperation. If an IT solution must scale gradually, offering the consumer new functionality and a fresh interaction experience, then the path to the ideal can be broken down into stages, progressively introducing innovations. This approach will save resources and break down investments into small batches. On average, the cost of scaling can be estimated using the formula "number of new features + implementation period". The result is a floating value in the range between $100 and $60,000, depending on specific factors.
As for the final release, modern web apps do not have such a concept. The fact is that cloud platforms and a set of technologies allow you to endlessly update, upgrade and even modify a ready-made digital solution.
The total cost of a simple web app or website rarely exceeds $5,000. Complex systems or enterprise solutions are already valued at $250,000 – $500,000, although with further scaling, investments in IT for an enterprise may even cross the threshold of $1,000,000. If the budget, for example, of a startup does not always allow you to realize all the potential at once, then the functionality can be broken down into implementation stages by making a priority plan and an update schedule. This will save money and keep the entrepreneur from the risk of losing a significant amount of investment due to an incorrect assessment of the IT solution's potential.
Summarizing
To save money when developing your own IT solution, you should follow three rules:
Use accessible and popular technologies.
Divide the app into functional update cycles.
Entrust work on a digital product to professionals.
It is also worth ordering a comprehensive development from scratch, which includes: analytics, design, development, testing, and support. This approach is more profitable from a financial point of view and provides the highest quality of a web app with adequate project funding.
Working with SDCLabs experts, you get a full range of services at a wholesale price and the best collaboration experience of your life. Our experts entirely switch to your project and consider the specifics of the business and your customers' needs. Contact our manager and see the quality of services the company provides for yourself!
SDCLabs is a favorite of the IT industry with an ideal balance of price and quality!