According to a study by DataReportal, there are now more than 5 billion active Internet users worldwide. Of these, about 96% prefer mobile and web apps for digital communication, both text and with voice/video messaging features. Solutions of this type blur the boundaries and allow people to remotely keep in touch with friends, relatives, and acquaintances. Given modern technology, you can communicate without barriers, even with foreigners. After all, the built-in online translator, combined with TTS, converts text to speech or vice versa in real-time and also translates them into the native language of the recipient.
Messaging apps have been popular for many years and do not lose their audience even now. The formats and appearance of chats are changing, but the main task remains the same – communication and contact at a distance. Messengers are still relevant, but their functionality is more reminiscent of social networks and serves as a universal platform for commerce, marketing, content sharing, and communication.
Now is the time if you want to build a messaging app and bring your innovative solution to market. We bring to your attention the perfect recipe for a modern messenger, which theoretically can compete with Telegram, Viber, Watsapp, or at least enter the top 10 popular apps in the Google Market and AppStore.
App Trends for Release in 2022
Technological progress affects all industries, but its impact is especially great in IT. Following trends is a key factor influencing the success of a startup or app. In a crazy race for popularity, delaying innovation equals a digital product lagging behind competitors' solutions, which means losing audience, traffic, and income. That is why it is essential to keep your nose to the wind and apply the latest industry innovations in your developments. Do you know what technologies are on the wave of hype in 2022?
Trend 1: AI is everywhere
Artificial intelligence is one of the key technologies as of 2022. It allows not only to automate some of the routine processes but also adds new functionality to seemingly familiar mechanics. For example, it is possible to develop a chatbot based on a messenger that will perform a specific role, which depends on the customer's tasks. Its app range is extensive: from banal user support to autonomous checkout of purchases, their processing up to the delegation of goods to logistics contractors. This trend is one of the most necessary for implementation in digital products in 2022.
Trend 2. Cross-platform
The range of modern pocket and wearable gadgets is unusually large: from banal smartphones and smartwatches to augmented reality glasses. All this becomes almost a key attribute of every person, especially those living in an urban environment. Since all such devices are built on different platforms, the actual apps should work equally well on all of them and, if necessary, synchronize or complement each other's functionality. That is why it is crucial to adapt digital solutions such as messenger for IOS, Android, WearOS, and other similar platforms.
Trend 3. Commerce
Modern social apps and platforms have become targeting elements for manufacturers and distributors worldwide. Messengers such as Telegram are popular with distributors and consumers globally. Product channels, chatbots, official representative offices, and user support; these components are indispensable in modern commerce, which means popular digital solutions must support them.
Trend 4. Blockchain
In the age of dominant network technologies, the issue of the security of confidential data is raised especially sharply by the global community. The attention of developers is focused on technologies such as blockchain and end-to-end encryption, which allow you to protect personal information and private content from theft. As for messengers, without these solutions, they are doomed to failure because most users are used to anonymity and are not going to neglect their own security in the future.
Trend 5. Combining the physical and virtual worlds
Dreams of an ideal digital universe have gradually transformed into a more pragmatic plane. AR and VR technologies have made it possible to rethink familiar things and processes, transforming them into convenient tools for solving various tasks. The scope of these solutions is not limited to fitting furniture in Ikea.
Even in everyday life, AR opens up new perspectives for ordinary users: information about objects, buildings, and things is displayed directly on top of the image in the smartphone viewfinder or on the additional screen of smart glasses. In the segment of social services, for example, in messengers, this technology is not yet widespread, although it can be used to diversify the communication experience: broadcast with visual subtitles, apply a background, change the appearance or make-up in the stream.
Prospects for Messenger Development in 2022
Unlike classic apps that perform a single function, communication platforms must comprehensively cover all user needs and provide them with a high level of security, customization, and innovation. Only if these parameters are observed the digital product has the prospect of competing with the top representatives of the segment and the basis for further scaling into a full-fledged multifunctional social platform.
The ideal feature set for creating a messaging app in 2022:
Responsive interface with gestures and rich animations.
Support for 5G networks and modern communication protocols.
Work in classic and additional color tone modes.
Messaging, streaming video, and voice.
Transfer of multimedia and files without reference to formats.
End-to-end encryption and blockchain, two-factor authentication.
Support for modern biometric sensors.
Built-in crypto wallet and linking payment cards.
Platform for chatbots and special channels.
Synchronization with wearable gadgets and external services.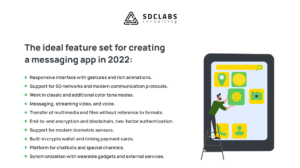 The described functionality goes far beyond the MVP, which is the app at the time of release. It is more of a list of recommendations and a strategy for scaling a digital product. Nevertheless, such a set will make your platform competitive and promising for further development.
How to Make a Messenger Stand Out From the Competition?
The trend direction for create your own messenger app is usability or a user interface that is clear and easy to learn. Consumers, in general, are the primary critics and investors of digital products, although their opinion is often neglected. The best way to make your app stand out among the mass of similar systems is to communicate with users and create a "popular" platform. We have prepared 3 tips that will help you correctly determine the direction of development of your idea to give it a tangible form that increases consumer loyalty.
Tip 1
The basis of any digital product is a technical stack, namely programming languages, frameworks, integrations, databases, and cloud hosting. Don't spend your entire development budget using the most expensive solutions. Standard technologies are often more popular, have good scaling potential, and are relatively cheap to maintain. Invest in development, not immediately, but gradually. So you can delight your customers with innovations more often than competitors.
Tip 2
Interface and adaptability for different devices are now a big problem in the IT development world. If there are usually no difficulties with day/night display modes, adjusting all elements to a wide range of screens and OS features is one of the most difficult challenges. Focus on interface customization, testing, and functionality for the best user experience on the market. It will help attract customers to the digital product and make it stand out from the competition.
Tip 3
Create a marketing strategy to promote your brainchild. Make the benefits attractive by making them stand out from the user's perspective. Also, focus on an indirect comparison of the development with other similar solutions. Highlight the main differences and present the features of your product as progressive consumer requests implemented in it. Remember, do not announce the list of all innovative solutions on the release; leave room for maneuvers and scaling.
Summarizing
The market for mobile and web apps in 2022 is oversaturated with various similar products. There is a categorical lack of innovative solutions with good optimization, interface, and functionality. That is why now is the best time to create your own messenger or even a comprehensive social platform. Such a digital product will not only give the consumer the desired communication options but also allow the entrepreneur who invested in it to receive income from advertising, paid services, and other monetization components.
Do you have an innovative idea and a view of ​​how it should look in practice? Tell us! SDC Labs will help turn fantasy into a digital universe that meets even the most bizarre client criteria. We will develop a comprehensive system that will fully cover the required tasks. For advice, please contact our manager.