The online patient consultation market is rapidly developing under the influence of Covid-19. It was valued at almost $50 billion as of the end of 2020. According to Brand Essence Research, the total niche value will exceed $232 billion by 2027 with a 24.8% CAGR. It will happen because of the trend of digitization in business and healthcare. Advanced features of telemedicine applications allow clients to make appointments with hospitals, consult remotely, receive medical care from doctors, or get referrals for x-rays, tests, etc., without leaving their homes.
McKinsey states that the popularity of online medicine increased more than 38 times during the reporting period, i.e., from February 2020 (before the pandemic) to February 2021 (at the height of the pandemic). It demonstrates how much Covid-19 has affected the digitization of healthcare services.
SDCLabs experts conducted a study of the online healthcare market. Now you will learn more about specialized IT solutions for clinics, how to create such systems, and what is the price of telemedicine app development.
What problems does digital medicine solve in the modern world?
In the last 3 years, the world has faced a challenge to science and medicine, Covid-19 outbreak. Rapid infection forced almost 90% of people to be isolated in their homes. And if the problem of buying food was minor, visits to doctors became complicated. In order to prevent the spread of the virus, medical institutions had to urgently look for an opportunity to provide their services remotely. The first online systems for interaction between doctors and patients appeared.
Telemedicine applications combine many functions into one system: registration for appointments, obtaining prescriptions for medicines, and consulting with attending physicians or other specialists. IT solutions made it possible to fill out patient cards, synchronize data with related medical institutions, and even attach special sensors to monitor a person's condition. Thanks to this, healthcare services became available through tablets, PCs, and smartphones.
Reducing queues
Have you ever experienced many hours of waiting in a corridor to see your doctor? Probably yes, but this problem has sunk into oblivion with digital technologies. For example, with telemedicine applications for healthcare, you can enter information about your visit to the registry and receive a virtual pass. Just show up on time and skip the line to your appointment.
Planning
How often have you forgotten to take your medicine on time, contact your doctor, or even come to the hospital? These annoying problems disappear with innovative tools for digital medicine. The built-in scheduler helps you track your treatment, the schedule of visits to the doctor, and even the dates of the annual comprehensive health check-ups.
Disadvantages
In addition to the pros of such apps, there are also some cons. As a rule, they are local and often fade against the backdrop of prospects. But they exist, which means we must mention them and explain how to solve these problems and what helps healthcare providers eliminate them.
Technical difficulties
If there are no problems with connecting to the network in cities, and 95% of residents use technology confidently, then the situation is a bit worse in small towns or villages. A stable connection is not always available to people here, and the digitization level is relatively low. That's why they cannot become telemedicine app users. They are likely to continue visiting local outpatient clinics or first-aid posts that aren't connected to online databases and systems.
The solution to the problem is global digitization through satellite communications, accessible gadgets for the population, and training on using them.
The problem of generations
If millennials still get along with technology, their parents are often not adapted to the digital world and consider it redundant. The main problem is that it applies to both patients and doctors. Global digitalization has not affected the 50+ generation, which has led to their refusal to use modern gadgets for everyday tasks.
The solution is the basic training of the 45+ category for using gadgets and the Internet and promoting digital services and discounts on them.
Poor synchronization with EHR
Perhaps it is one of the most annoying problems. Differences in the technological stacks for telemedicine applications and EHR complicate integrations of these systems with each other. It leads to disorders in customer cards, treatment periods, prescriptions, and other information.
One of the possible solutions is the universalization of IT solutions for EHR and digital medicine at the legislative level.
How to develop a telemedicine application for healthcare?
After the customer contacts the contractor, the team prepares a roadmap, analyzes the desired functionality, and selects a user interaction model. The next step is preparing a preliminary layout of all interface elements and general design. After this, the development process begins. All these works are usually included in standard service lists of IT companies.
The minimum composition of MVP
Initially, the necessary minimum of functions is determined to launch an IT solution on the market. Usually, it is divided into 3 groups of users, where each has a different interface and tools.
Administration:
Managing customer and doctor accounts.
Scheduling and planning events.
Accounting and managing reports and analytics.
Marketing mailings and notification systems.
Transactions, including control over payments for visits and salaries.
Clients & staff:
Accounts with registration and authorization.
Search in the database and work with filters.
Interface for voice/video calls.
Integrated chat with message history.
Menu with appointments, analyzes, and other information.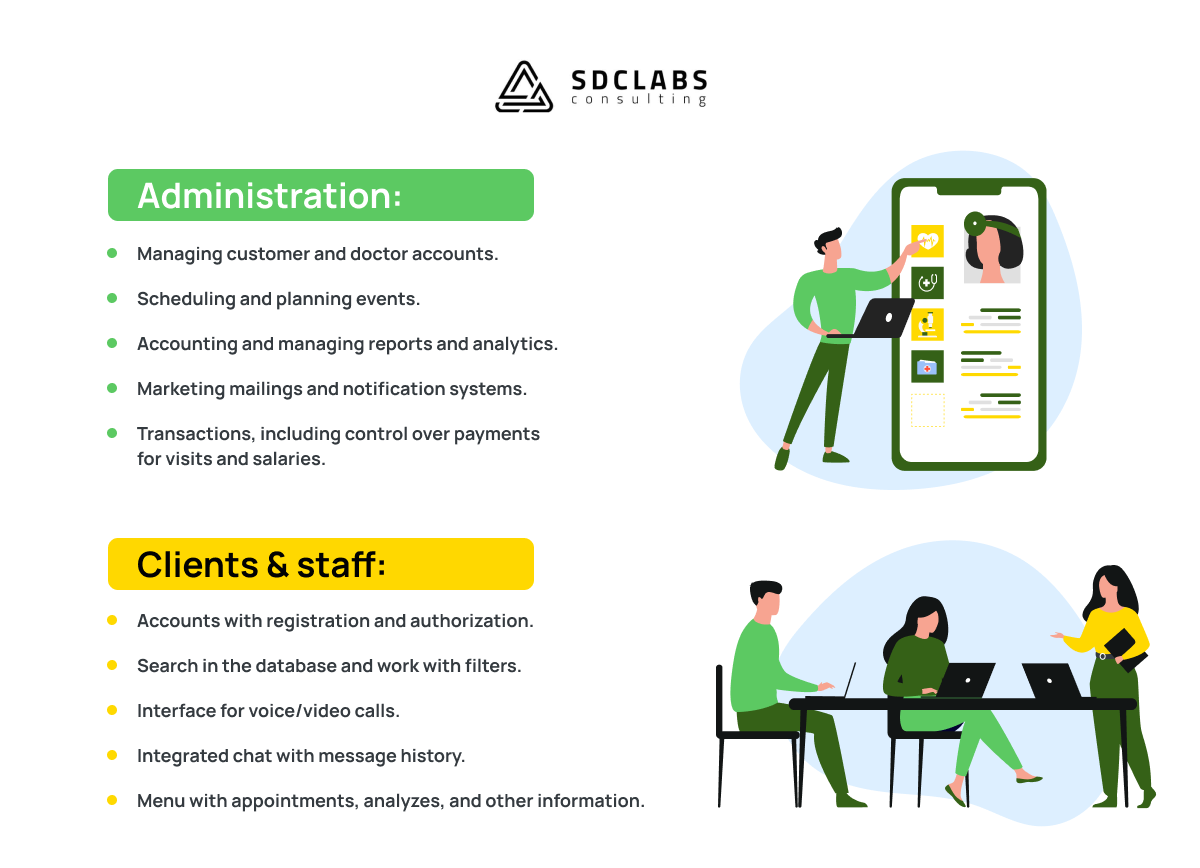 Obviously, interfaces for doctors and clients differ, but the same template can be used for them.
Multiplatform
Usually, digital medicine platforms aim to work on all popular operating systems: Android, iOS, Windows, Mac, and Linux. It entails the development of native mobile apps and comprehensive web solutions for browsers.
Cloud dependency
It's the basis of most of today's telemedicine applications for healthcare. Its advantages unlock the potential of cloud storage and server performance, optimizing the operation of IT products on all devices regardless of their cost and relevance. It helps reach a larger number of users because a stable Internet connection is the most common condition for working with such apps.
IoT
Perhaps you know what the Internet of Things is, but you don't yet understand how this technology relates to telemedicine. Look, treatment becomes much simpler if a doctor can examine a patient. Modern medical devices for personal use, such as blood pressure monitors or holters, have wireless technologies that allow you to track your condition right on the smartphone screen, keep track of changes in health, etc. By controlling these devices through the app, the doctor monitors the patient's condition and diagnoses more accurately.
Security and Permissions
GDPR, IMLC, and HIPAA licensing are a must for modern telemedicine apps. Without licenses, service providers cannot operate in most regions of Europe and the US. The use of non-certified programs in medicine leads to fines or criminal liability because data security is essential in this field.
How much does telemedicine app development cost?
There is no single answer to this question because pricing depends not only on the features implemented in the product but on time costs, contractor rates, terms, technologies, etc.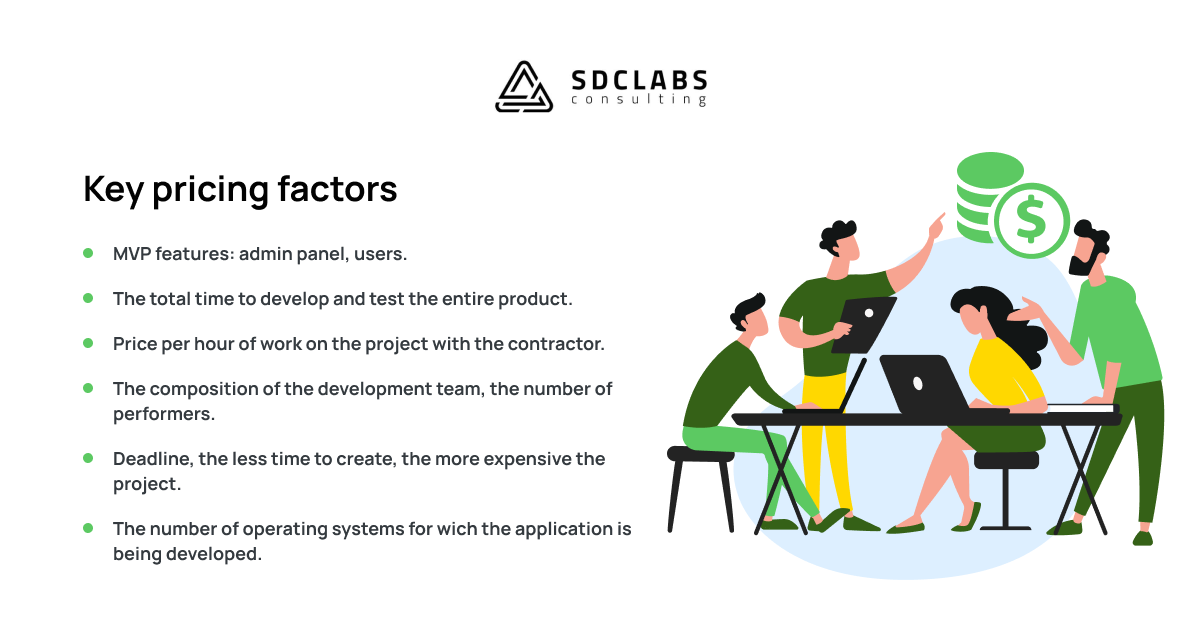 Average project cost
The simplest projects cost from $50,000 to $70,000. This cost includes preparing and releasing an MVP with a minimal set of features and a peer-to-peer interaction system. For advanced IT solutions with multi-tier architecture, advanced tools, and integration with various services, you will have to pay from $120,000 to $200,000. These prices are justified by the complexity of app development. Such IT solutions are not affordable for all healthcare organizations, but when implemented, they increase the efficiency of all treatment participants and positively affect the income of a medical institution.
Payback
It is difficult to predict the full return on investment because it depends on many external factors. As a rule, clinics implementing such IT products do not control these nuances. You can partially calculate the payback if you know the average annual number of visitors, paid receptions, operations, and all other components of your organization's income.
Let's summarize
Telemedicine app development is a complex and serious process that requires a team of performers with experience in similar projects. Such IT solutions increase the efficiency of private clinics and simplify the interaction between doctors and patients.
If you want to develop your own app or learn more about it, don't hesitate to get in touch with our manager. The SDCLabs team can implement any project for the healthcare sector. Working with us, you receive a modern IT solution that meets all safety and quality standards. Don't delay the MVP release, stay trendy with SDCLabs!